A lender has launched 2019's cheapest mortgage so far at 0.98%, but is it worth the risk?
New two-year tracker deal offers an initial rate of 0.98% for home movers
Halifax has fired the first shot in a winter mortgage rate war by offering a new deal with an initial rate of just 0.98%. It's the first time in a year that a lender has broken the 1% barrier, but a word of warning for borrowers – it's a bit of a gamble. Here, we explain how Halifax's new deal works, and offer some thoughts on whether now is the time to gamble on a tracker mortgage.
(Please note this is information only, not advice, and not solely to be relied upon to make financial decisions. If you wish to receive advice specific to your circumstances, please contact Broadland Consultants mortgage broker team to book an appointment)
Halifax launches sub-1% tracker mortgage Home movers can now get a mortgage with a rate of just 0.98%. The new tracker deal from Halifax is available to borrowers with a 40% deposit, and comes with an up-front fee of £999. It's only available to people moving home, so first-time buyers and remortgagers will need to look elsewhere. Mortgage deals with initial rates below 1% are very rare, with Halifax the first lender to take the plunge this year. Last year, Skipton Building Society and Yorkshire Building Society offered 0.99% deals, as did HSBC in the summer of 2017.
What's happening to mortgage rates? It's been a good year for borrowers, with mortgage rates falling across the board. And with lenders looking to get business over the line before the end of the year, don't rule out prices dropping further. Right now, the average rate on two-year fix and five-year fix is the lowest we've seen so far in 2019. Trackers, meanwhile, are priced just 0.01% more than when they hit their 12-month low in August.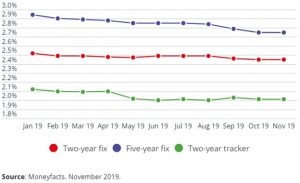 How does the Halifax tracker work? The vast majority of borrowers take out either a two or five-year fixed-rate mortgage, but this new deal from Halifax is a tracker. Data from Experian shows that just 3.1% of borrowers searched for a tracker in October, compared with the 91% who shopped for a fixed rate. Tracker mortgages follow the Bank of England base rate plus a percentage, so if this goes up or down, so too will your monthly payment.
The Halifax deal is priced at the base rate (currently 0.75%) plus 0.23% – a total of 0.98%. If the Bank of England increases the base rate to 1%, you'll pay 1.23%, or if it reduces it to 0.5%, you'll only pay 0.73%.
Should I risk taking out a tracker? With a tracker mortgage, you're abandoning the security of a fixed-rate deal and gambling on what's going to happen to interest rates. You should only take out a tracker if you expect the base rate to fall or if the deal is significantly cheaper than the equivalent fixed rate. Is the Bank of England base rate likely to fall? You've got this far without us mentioning the 'B' word, but there's no way around it – the base rate could depend on what happens with Brexit.
With lower-than-expected GDP forecasts in place, there has been speculation that a drop could be on the way, though this hasn't yet materialised. Earlier this month, the Bank's of England's Monetary Policy Committee voted to keep the base rate at 0.75% by a majority of seven to two. This means three 'no' voters will need to change their mind if rates are to fall when the committee next meets on 19 December. Right now that seems unlikely, but with an election to be fought in the interim, stranger things have happened.
Find out more: Bank of England base rate and your mortgage Is this tracker cheaper than a fixed rate?
If the base rate falls, you could end up paying 0.73% – which makes this deal far cheaper than anything else on the market. If you don't think the base rate will drop, however, it's probably not worth choosing this product over a two-year fixed rate. That's because Halifax also offers a new market-leading rate of 1.05% on its equivalent fixed-rate deal, so you'll only be saving 0.06% – or just a few pounds a month – by choosing the tracker. And while it's unlikely, it's not beyond the realms of possibility that the base rate could even increase next year, which would give you a far less competitive rate of 1.23%. You can see how Halifax's two deals compare in the image above.
If you would like to book in for a no obligation mortgage  review with one of Broadland Consultants expert mortgage advisers to check what advice would be best for your specific circumstances, please feel free to get in touch via t. 01603 278278 or via e. info@broadlandconsultants.com
* Mortgage products subject to lending booking fee, to understand more please request an illustration for your specific  circumstances . Please note that the above information is correct as at 25/11/2019 * Initial mortgage basic review comes at our cost, should you proceed to a formal application a mortgage broker fee is payable *Mortgage rates are subject to status, and your specific personal/financial circumstances. Mortgage products are subject to change. You must maintain payments on debt secured against property or your property could be repossessed. Broadland Consultants Limited is authorised and regulated by the Financial Conduct Authority. FCA No. 958621. Please note: the FCA does not regulate in relation to the sale and purchase of investment property.